What are the Features of Fish Model Evening Dress? What Body Types Is It Suitable For?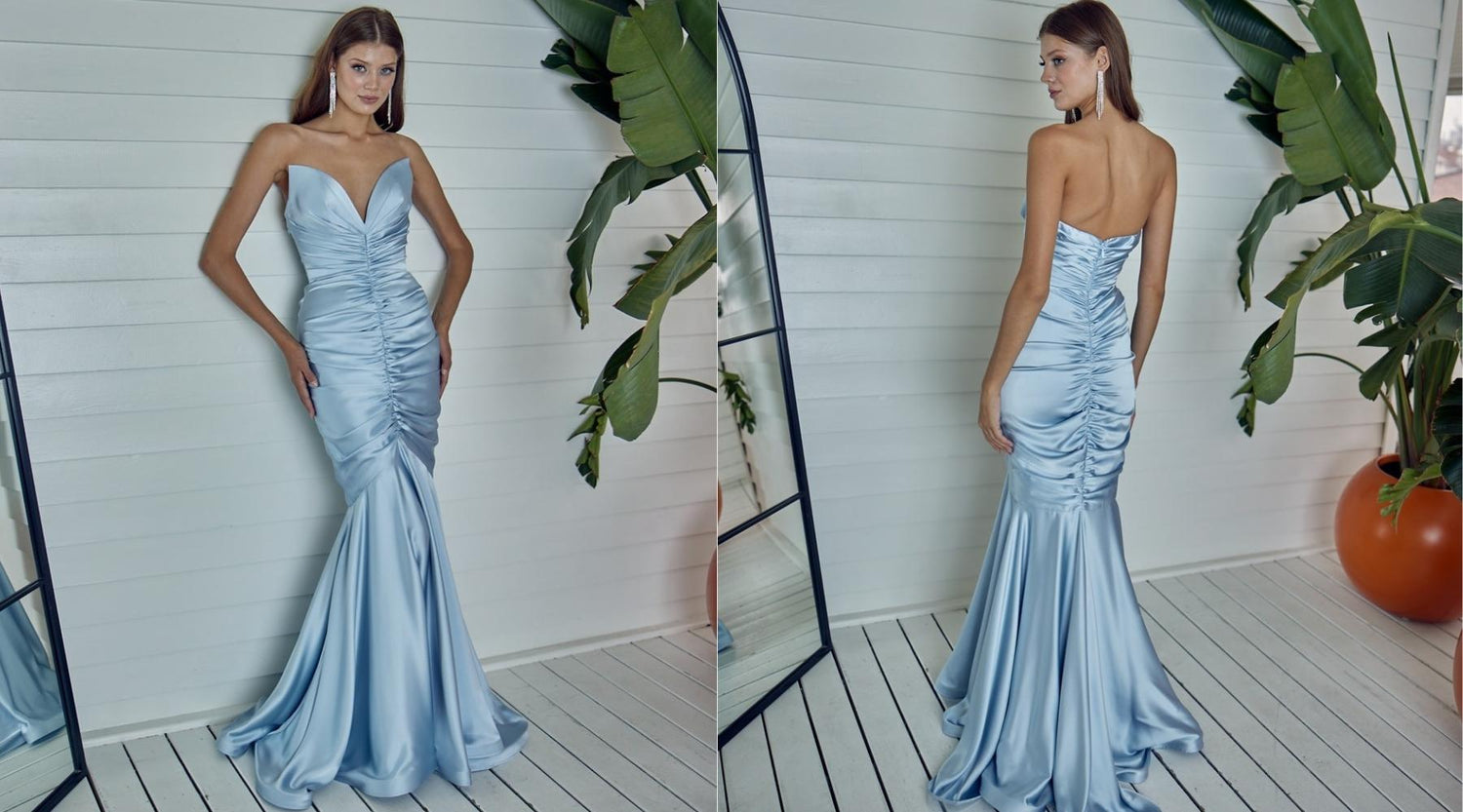 Mermaid evening dresses are body-hugging, elegant and stylish designs. Important factors such as body type should be taken into consideration when choosing mermaid evening dresses that can be designed in different patterns and colors.
Highlights of Fish Model Evening Dresses
Fish dress models are elegant designs that hug the body tightly from the waist to the knees and extend to the floor. Fish models are designed as full fish or half fish.
Full fish models start from the upper body and go down to the ground. Half-fish models, on the other hand, fit completely from the upper body to the knees, and become looser from the knees down.
Skirt types of fishtail evening dresses can be with or without tails. In mermaid dress models with tails, the skirt part can reach all the way to the floor.
For Which Body Types Are Fishnet Evening Dress Models Suitable?
The first thing to consider when choosing fishnet evening dress models is body type suitability. Fishnet dresses best suit women with proportionate chest, waist and hips. Especially women with thin waists and proportionally slightly prominent hips look very elegant in fishnet dresses.
Fish model dresses especially suit people with hourglass body type. This type of body measurements with proportional lines are ideal for mermaid dresses.
What to Consider in Fish Evening Dress Combinations?
When combining with mermaid evening dresses, it is beneficial not to prevent the design worn from showing itself. Since mermaid dresses emphasize body lines, excessive accessories that will get in the way of the dress should be avoided.
What are the Mistakes Made in Fishnet Evening Dress Combinations?
One of the important mistakes made in fish dress combinations is covering your design that emphasizes your body lines with long jackets. When you choose these dresses that emphasize your hips and waist, you should not choose jackets that will cover the design in the long term. You can use it until you attend the event, but you should not wear jackets that cover your fish dress during the event.
Another mistake made in fish dress combinations is not choosing the model that is appropriate for the age. If mermaid dress models are to be chosen for young people, they should be researched in more detail, and more elegant ones should be chosen rather than designs that will make them look more mature.
What kind of shoes should be preferred with fishtail evening dresses?
Since mermaid evening dresses have long designs, shoes may not be visible often. Especially in mermaid evening dresses with floor-length tails, your shoes are almost invisible. In full-length mermaid dresses, your shoes may show through from time to time, so you should pay particular attention to matching colors.
Since fishnet evening dresses are designs that make you look taller, higher heels should be preferred to support the purpose of these dresses. Shoes for a mermaid dress should be chosen among those with high platforms.
How to Choose a Fishnet Evening Dress According to the Season?
Seasonal conditions should also be taken into consideration when choosing a fishtail evening dress. Fish dresses with thin fabrics that will keep you much cooler in the summer should be chosen. On cold winter days, thick fishtail models with tougher fabric can be preferred.
What should be the right fishtail evening dress combination?
It is very important to pay attention to color and pattern harmony when combining fishnet evening dresses. In addition, the jewelry and accessories used should complement the dress and support the tall body posture. To look longer with fishtail dresses, you can get a higher look by tying your hair up.
Fishnet Evening Dress Combinations 2023-2024
Fishnet dresses are designed in different colors, patterns and fabrics and are frequently preferred every season. Let's examine the most preferred fish dress models in the 2023-2024 season.
Satin Fishnet Evening Dress
Satin fishtail evening dress has a very luxurious look. That's why it is one of the most preferred fish models. Satin provides a shiny and elegant look in most dresses.
Stoned Fish Evening Dress
Stoned fishtail evening dresses are frequently preferred in the new season. Stony transitions and embroideries make the fish model look richer.
Sequin Fish Dress
Sequin mermaid dress models are an ideal choice for those who want to have a more eye-catching look. Sequined fishtail evening dresses will continue to appear frequently in the new season.
Frequently Asked Questions About Fishnet Evening Dresses 
Who Suits Fish Model Evening Dress?
Body type is an important factor when choosing fishnet dresses. People with proportional body lines should prefer fishtail dresses. Fish models suit people with hourglass body types best.
What are the Recommendations for Evening Dress Care?
The care of fishtail evening dress models varies from fabric to fabric. You can maintain the fish dress you have chosen according to its instructions or get support from the dry cleaning service.
What are the trendy details in fishtail evening dresses?
One of the most trendy details in mermaid dresses is the long train that reaches all the way to the floor. Long tails look great on mermaid dresses.
You can discover NS Sposa's mermaid model dresses with the ease of online shopping or visit our Istanbul, Adana and Izmir showrooms and examine all models in detail.