Wedding Dress Suggestions for Short Brides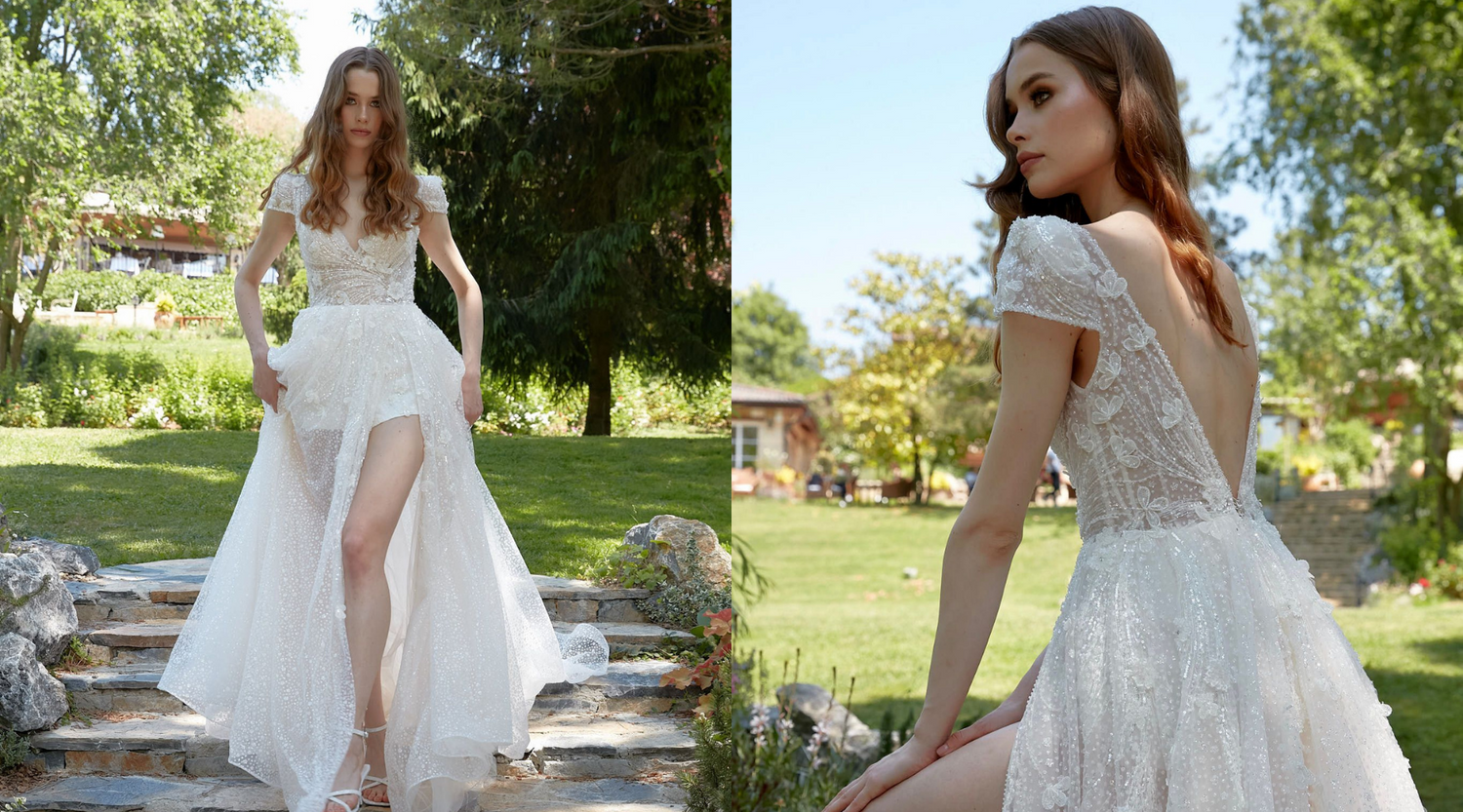 For short brides, you can get a long look with details such as A cut, high waist and V-neck. You can balance your height with low heels and open shoes. You can get the wedding dress of your dreams with wedding dress collections that will shed light on your unforgettable moments.
What Should Short Brides Consider When Choosing Wedding Dresses?
While choosing a wedding dress according to their body type, brides may have a stressful period until they find the one that suits their proportions. But when you visit bridal shops and find your body measurements and what makes you look good, you can achieve an extremely assertive look.
Short brides should especially turn to models that will make their legs look longer. These models should be flatter or slightly fluffy rather than very puffy ones. Again, midi and princess models can also cut your leg length quite a bit. Therefore, models that reach down to the floor and slightly fluffy make brides with short lengths look much longer.
Wedding Dress Models That Short Brides Should Prefer
If the choice of wedding dress for short brides is correct, the leg and body lengths will look much longer than they are. Especially if princess cut and fluffy midi wedding dress models are avoided and A-cut or Helen models are preferred, a very elegant image emerges. Short length is among the most suitable wedding dress models ; There are A-cut wedding dresses, sleeveless wedding dresses, Helen wedding dresses and straight-cut wedding dresses.
A-Line Wedding Dresses
A cut wedding dresses show much longer than they are. This cut has a tighter and body-fitting shape on the top, while the bottom part expands slowly. Therefore, A cut wedding dresses can balance the silhouette of short people and make them look taller.
Sleeveless Wedding Dresses
Sleeveless wedding dresses can also be a nice option for short stature. Sleeveless designs often offer a more open and elegant look, which can create an overall longer, seamless silhouette. However, when choosing a sleeveless wedding dress, a V-neck or U-neck can be preferred to appear longer.
Helen Wedding Dresses
Helen bridesmaid dresses have a long and very slightly puffy cut. Bridesmaid dresses in this cut will make the legs and bodies of short brides look much longer. These floor-length models offer a long silhouette, especially for people with shorter legs.
Straight Cut Bridesmaid Dresses
Straight cut bridesmaid dresses can generally provide a nice look for short stature. Straight cut wedding dresses emphasize less body lines and offer understated elegance. This cut can help you create a more elegant and minimal style instead of creating a taller look.
How Should Short Brides Have Hairstyles?
Short brides can choose models that do not cover their body lines and make their silhouette look longer when choosing hair. When choosing your hairstyle, rehearsing before the wedding, wedding or shooting will be good for choosing the model that suits you best.
At this point, choosing the right hairstyle can be supported by different factors. Hairstyles for short brides are available in different styles, let's take a look at them.
High Bun or Braid
Putting your hair in a high bun or braid can help make you look taller. A bun or braid will make your torso and leg length appear longer.
Side Split Hair
Side parted hair. It supports your facial features to appear much longer and can also help balance your height.
Curly or Wavy Hair
Curly or wavy hair can add volume and touch, making the overall look look longer and richer. However, it is useful not to be too fluffy, extending downwards, this may make your body look flat.
High Fluffy Hair
This hairstyle can create an impressive look as well as giving your hair a high updo, adding extra length to your height. Using the fluffy hair up will give you a long silhouette.
Accessory Use
Hair accessories can help balance your height by drawing attention to your hair. You can add an interesting detail by using accessories such as tiaras, flowers or dainty hairpins.
Long Falling Curls
Adding long, slightly wavy curls to your hair can help add optical length to your height.
How Should Short Brides Choose Veils?
The length of the veil is important to balance the bride's height. Generally, veils starting from shoulder level or ending at knee level can be preferred. In addition, shorter or medium lengths instead of very long veils can make your proportion look more balanced. In addition, the veil type is also important. Long and straight veils can help make you look taller by creating vertical lines. You can choose single-layer and simpler veils.
How to Choose Shoes for Short Brides?
Very high and uncomfortable shoes may not be a good choice for comfort, not only for short brides, but also for all brides. It may be a good choice to choose more medium-heel shoes or, if it is a high shoe, to choose comfortable platforms.
You can make an appointment by contacting our Istanbul, Adana and Izmir showrooms to get support from our style consultants in choosing a wedding dress according to your body proportion.